Get a Quote
No Services
---
There are no services that collect and deliver to your selected countries.
USA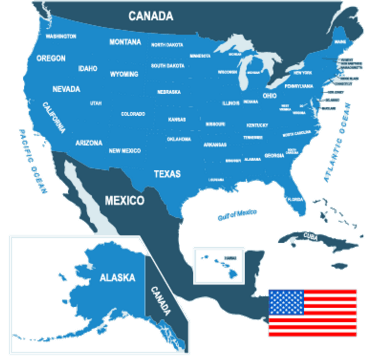 Sending to the USA could be daunting for some UK senders. The Atlantic Ocean is awfully big, and even when it's been crossed, there's the fearsome American border force to compete with, not to mention how expensive that could all be.
Thankfully, DPD is equipped to make delivering to the US easier and more affordable than it ever has been.
As one of the world's premium courier companies, we use our expertise in international shipping to make dealing with US customs simple. Not only that, but we also use our extensive overseas courier network to get you the very best prices, without having to sacrifice quality of service.
Be bold and free when sending to the USA by booking at dpd today!
Get a Quote
What else do you need to know...
Restricted Items
The following items are prohibited for delivery to Germany, and will therefore be rejected when they reach the border:
Cigarettes — due to legislation passed in 2010, cigarettes, roll-your-own tobacco and smokeless tobacco are no longer admitted in any type of international mail.
Foodstuffs — the FDA are continually tightening up security on food imports. If you want to send food to the US, you'll need to obtain a prior notification registration number proving that you've informed customs in advance.
For more information, contact the U.S. Customs and Border Protection office. You can also refer to our prohibited items list.
How do I get a quote?
Getting a quote is easy. Just enter the details of your parcel (its weight, height and length) into the quick-quote tool above, click Quote & Book, and choose the courier quote that's right for you. Simple.
Get a Quote
Where can I find more information?
If you need any more information, you'll find plenty of helpful stuff at our online Help Centre There you can browse our FAQ guides — covering everything from packaging tips to international shipping advice — or talk to one of our friendly advisors via the chat window.
Get a Quote