Get a Quote
No Services
---
There are no services that collect and deliver to your selected countries.
Japan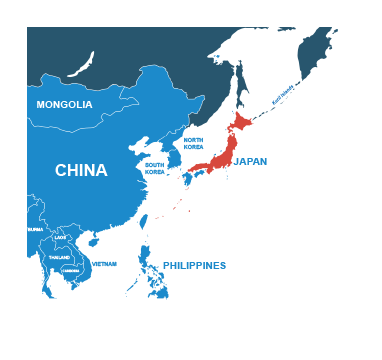 Japan
Japan is home to a whole host of cultural icons beloved around the world. From key players in the gaming industry — Atari, Nintendo and Capcom to name but a few — to foods like sushi and tempura, it's no wonder why the demands for Japanese exports increases year on year. All that revenue also makes Japan the world's fifth-largest importer, meaning that there is an equally high demand for parcels from the rest of the world.
Parcel delivery to Japan needn't be difficult, however. Thanks to a broad network of trusted courier services, we offer cheap parcels without sacrificing premium service. So, whether you need to ship to the neon-lit Tokyo or to the quiet mountain peaks of Hokkaido, all you need to do to get started is fill in the quote form above. Arigatō!
Get a Quote
What else do you need to know...
What items can I send?
The Japanese imports office follows the same regulations as the majority of the world in terms of which items can and cannot be brought into the country. Banned items include:
Print and film materials deemed obscene (including pornography)
Materials that infringe copyright
For the best information on postal legislation in Japan, check with the Japanese customs office. Plus, it's worth familiarising yourself with our prohibited items list to ensure that your item can legally be carried in UK post as well.
How do I get a quote?
Getting a quote is easy. Just enter the details of your parcel (its weight, height and length) into the quick-quote tool above, click Quote & Book, and choose the courier quote that's right for you. Simple.
Get a Quote
Where can I find more information?
If you need any more information, you'll find plenty of helpful stuff at our online Help Centre There you can browse our FAQ guides — covering everything from packaging tips to international shipping advice — or talk to one of our friendly advisors via the chat window.
Get a Quote