Get a Quote
No Services
---
There are no services that collect and deliver to your selected countries.
Singapore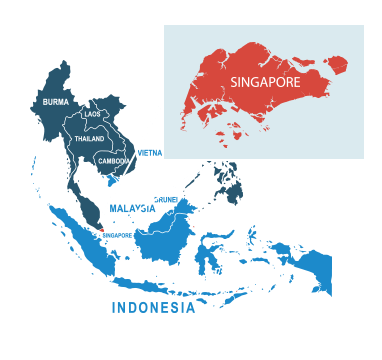 Singapore
Despite how small it is, the city-state of Singapore is a global commercial hub. World Bank has previously called it "the world's easiest place to do business" for nine years running, and it's also the world's third-largest foreign exchange market. It makes sense then that a huge quantity of goods run through it each year, with demand increasing all the time. And with a growing expat community, imports from Britain are very popular indeed.
That's why at DPD we've made it our mission to make parcel delivery to Singapore a hassle-free experience. By selecting our world-leading courier service, we're able to ensure top-quality service at the lowest prices. So if you need to send cheap parcels to the "Lion City" of Southeast Asia, all you need to do is enter your details into our quick-quote tool above to get started.
Get a Quote
What else do you need to know...
What items can I send?
Singapore has some fairly stern restrictions on certain brands of alcohol and cigarettes, and those that aren't banned still incur a hefty import tax. Also, any cigarettes with the prefix "E" written on the packet won't be admitted into the country.
It's best practice to contact Singapore customs for some expert advice on importing into Singapore, since legislation is prone to change at short notice. For a rundown of items not allowed in UK mail, see our handy prohibited items list.
How do I get a quote?
Getting a quote is easy. Just enter the details of your parcel (its weight, height and length) into the quick-quote tool above, click Quote & Book, and choose the courier quote that's right for you. Simple.
Get a Quote
Where can I find more information?
If you need any more information, you'll find plenty of helpful stuff at our online Help Centre There you can browse our FAQ guides — covering everything from packaging tips to international shipping advice — or talk to one of our friendly advisors via the chat window.
Get a Quote