Get a Quote
No Services
---
There are no services that collect and deliver to your selected countries.
Turkey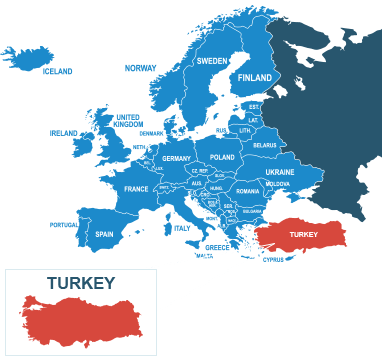 Turkey
Turkey was once the seat of the Ottoman Empire, one of the most powerful world forces in history. Today it remains an important nation, connecting the Middle East to Europe by sitting between both the Mediterranean and the Black Seas. Turkey has established itself as a prominent regional power with a global reach, and as a major producer of consumer electronics it enjoys strong trade relationships with the rest of Europe.
Parcel delivery to Turkey is becoming increasingly important, which is why DPD work exclusively to offer trusted courier services and ensure that the job is done right. We strive to offer you the absolute lowest prices on deliveries to Turkey and beyond, meaning you get cheap parcels with a premium service. So whatever you're posting to Turkey, send it with DPD.
Get a Quote
What else do you need to know...
What items can I send?
There are a number of items that won't be permitted for shipping to Turkey. These include:
Lithium batteries and equipment containing them
Drugs
Firearms
Meat and dairy products
For more information about goods you can and can't send to Turkey, check with HM Revenue and Customs. See also our prohibited items page for a list of goods that can't be sent with our couriers.
How do I get a quote?
Getting a quote is easy. Just enter the details of your parcel (its weight, height and length) into the quick-quote tool above, click Quote & Book, and choose the courier quote that's right for you. Simple.
Get a Quote
Where can I find more information?
If you need any more information, you'll find plenty of helpful stuff at our online Help Centre There you can browse our FAQ guides — covering everything from packaging tips to international shipping advice — or talk to one of our friendly advisors via the chat window.
Get a Quote