Get a Quote
No Services
---
There are no services that collect and deliver to your selected countries.
Bangladesh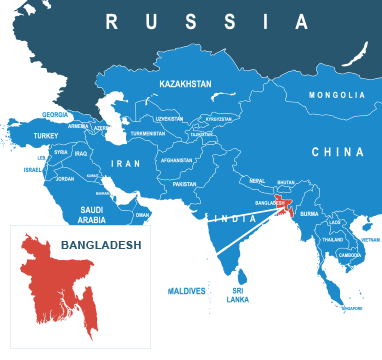 Bangladesh
Known regionally as 'the land of many rivers', Bangladesh is a luscious tropic in South Asia. Its incredible population density — one of the highest in the world — makes the prospect of sending a parcel there a little daunting for those unfamiliar with the process, especially since so many companies ask a steep price for the privilege.
Thankfully, DPD work to ensure that our customers are able to get trusted, efficient parcel delivery to Bangladesh without a hefty price tag. We're able to get cheap parcels every time by negotiating with our network of renowned services.
So whether you're sending to Dhaka or Rangpur, you can rely on DPD to get the very best prices on postage to Bangladesh. Get your quote today!
Get a Quote
What else do you need to know...
What items can I send?
There's a fairly extensive list of items prohibited for import into Bangladesh. Banned items include:
Illegal drugs

Weaponry and explosives

Feature films not certified by the Bangladesh Film Censorship Board

Guide and relief maps, and educational charts

Onions

Bamboo and cane
You can find a more detailed list online here. For any further information, contact HM Revenue and Customs, or visit our prohibited items page for a list of goods not fit for courier handling in the UK.
How do I get a quote?
Getting a quote is easy. Just enter the details of your parcel (its weight, height and length) into the quick-quote tool above, click Quote & Book, and choose the courier quote that's right for you. Simple.
Get a Quote
Where can I find more information?
If you need any more information, you'll find plenty of helpful stuff at our online Help Centre There you can browse our FAQ guides — covering everything from packaging tips to international shipping advice — or talk to one of our friendly advisors via the chat window.
Get a Quote