Get a Quote
No Services
---
There are no services that collect and deliver to your selected countries.
Australia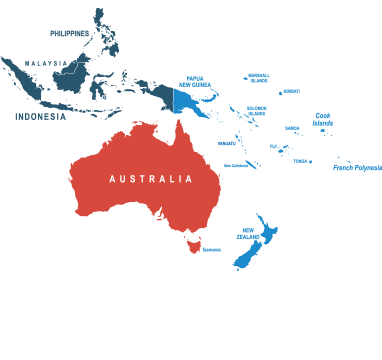 Australia
The prospect of shipping to Australia can be a little daunting for those unfamiliar with how it all works. Not only is Australia almost 9,500 miles away from British shores, but it's also the world's sixth-largest country by land mass. That's an awful lot of room for a problem to rear its head if it's sent in the wrong hands.
Luckily, here at DPD we work hard to ensure that delivering to Australia is just as easy as delivering within the UK. Thanks to our long-standing reputed courier services we are able to negotiate cheap parcels to Australia for you, all the while ensuring that your packages are in the finest hands.
Wherever in Australia you're sending your parcel — from Perth and Sydney, to Melbourne and Brisbane — you'll get it there cheapest with DPDLocal-Online. All you need to do is fill out our online quote form above. Throw that on your barby.
Get a Quote
What else do you need to know...
What items can I send?
Australia is famed for its strict customs standards, because of their efforts to preserve their wildlife. As such, prohibited items to the country include:
Soil of whatever quantity

Plants and plant matter

Articles of leather, including saddlery

Cardboard boxes that have previously been used to carry fruit, vegetables, or meat that could contain harmful organisms
For any additional information on what can be sent to Australia, check with the Australian customs authority. You should also check out our prohibited items page for items that our couriers can't legally handle.
How do I get a quote?
Getting a quote is easy. Just enter the details of your parcel (its weight, height and length) into the quick-quote tool above, click Quote & Book, and choose the courier quote that's right for you. Simple.
Get a Quote
Where can I find more information?
If you need any more information, you'll find plenty of helpful stuff at our online Help Centre There you can browse our FAQ guides — covering everything from packaging tips to international shipping advice — or talk to one of our friendly advisors via the chat window.
Get a Quote