Send a parcel to Northern Ireland from only £12.85 inc VAT
Collection and drop-off service available
Get parcel cover worth up to £50 included
Protect your parcel up to £5000 with extra cover
Send up to 70kg on selected services
Get a Quote
No Services
---
There are no services that collect and deliver to your selected countries.
Northern Ireland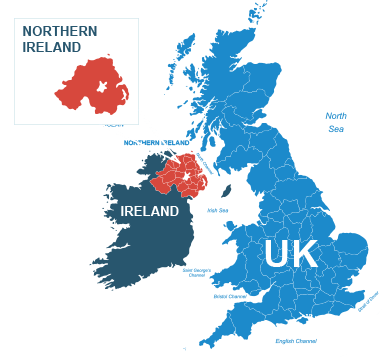 Northern Ireland
Northern Ireland is famed for its Norman castles, celtic monuments, and, well, golf courses. It's a member of the United Kingdom along with England and Scotland, and its capital city, Belfast, is the second largest on the island, trumped only by Dublin in the Republic of Ireland to the south. Naturally, relations between Northern Ireland and the rest of the UK are strong, with an economy that's deeply tied with that of its partners across the Irish Sea.
Parcel delivery to Northern Ireland couldn't be easier when you choose to send with DPD. By offering top courier services, we're able to get rapid delivery on cheap parcels, so you can have your good delivered in no time at a price that'll put a smile on your face. For great quotes on postage to Northern Ireland, it's got to be DPD!
Get a Quote
Drop Off
DPD Pickup
Drop off your parcel
anytime today
Buy This Service
Door to Door
DPD Door To Door
Collection tomorrow
if you book in the next
12 hours
Buy This Service
What else do you need to know...
Do I need to deal with customs when sending from the UK to Northern Ireland?
Northern Ireland is not only part of Europe, but also of the United Kingdom, which means you won't need to worry about customs duties when sending there from England or Scotland.
How much does it cost to send a parcel from the UK to Northern Ireland?
Shipping to Northern Ireland can cost as low as £12.85 by booking your delivery through DPDLocal-Online. And you could save even more with our Lowest Price Guarantee, which ensures that in the unlikely event you find a price that's better than ours, we'll match it!
How should I address my parcel for delivery to Northern Ireland?
Northern Ireland falls under the addressing system of the United Kingdom. If you need a quick refresher, you can use this addressing guide for the UK published by the Universal Postal Union.
What items can I send?
For a list of goods that can't be sent within the UK, check out our .
How do I get a quote?
Getting a quote is easy. Just enter the details of your parcel (its weight, height and length) into the quick-quote tool above, click Quote & Book, and choose the courier quote that's right for you. Simple.
Get a Quote
Where can I find more information?
If you need any more information, you'll find plenty of helpful stuff at our online Help Centre There you can browse our FAQ guides — covering everything from packaging tips to international shipping advice — or talk to one of our friendly advisors via the chat window.
Get a Quote