Send a parcel to Austria from only £24.10 inc VAT
Collection and drop-off service available
Get parcel cover worth up to £50 included
Protect your parcel up to £5000 with extra cover
Send up to 70kg on selected services
Get a Quote
No Services
---
There are no services that collect and deliver to your selected countries.
Austria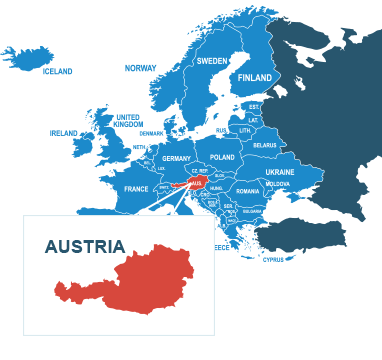 Austria
Austria is a popular social hub for travellers and expats alike thanks to it rich cultural history and high standards of living. From Vienna and the alpine planes to Mozart and Freud, this German-speaking country now also boasts a high GDP; per person, it's one of the wealthiest countries in the world. That means that there is plenty of reason for sending a parcel to Austria, whether that's selling in-demand goods to continental buyers or sending a package for family and friends pining for home.
And now it's easier than ever, thanks to DPD. With a large network of courier services at our disposal, we're able to get the UK's best prices on parcel delivery to Austria for our customers time and time again. Just enter your parcel details in the quick-quote box above to get a quote today!
Get a Quote
Drop Off
DPD Pickup
Drop off your parcel
anytime today
Buy This Service
Door to Door
DPD Door To Door Int
Collection tomorrow
if you book in the next
11 hours
Buy This Service
What else do you need to know...
Do I need to deal with customs when sending from the UK to Austria?
You won't need to worry about international customs when posting to Austria from the UK, because both are members of the European Union.
How much does it cost to send a parcel from the UK to Austria?
Postage to Austria can cost as little as £24.10 through DPDLocal-Online. Our prices are achieved by implementing methods to save money, and then passing on those savings to you! It's simple, but effective.
How should I address my parcel for delivery to Austria?
Addressing formats in Austria are fairly similar to those here in the UK, with a couple of small exceptions worth being aware of. The Universal Postal Union have produced a detailed guide to addressing a parcel to Austria, which you can read here.
What items can I send?
Mostly, any items you can send through the UK and the EU you can send to Austria. However, there are a few specified bans on animal products, including:
Horns, antlers, hooves, and claws, etc.;

Glands and bile;

Pigs' bristles and hair;

Guts and bladders;

Insects (for biomedical research or otherwise).
For a full list of items that are restricted in UK post, see our prohibited items list.
How do I get a quote?
Getting a quote is easy. Just enter the details of your parcel (its weight, height and length) into the quick-quote tool above, click Quote & Book, and choose the courier quote that's right for you. Simple.
Get a Quote
Where can I find more information?
If you need any more information, you'll find plenty of helpful stuff at our online Help Centre There you can browse our FAQ guides — covering everything from packaging tips to international shipping advice — or talk to one of our friendly advisors via the chat window.
Get a Quote