Get a Quote
No Services
---
There are no services that collect and deliver to your selected countries.
Saudi Arabia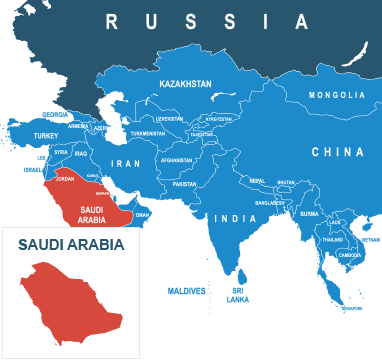 Saudi Arabia
The Kingdom of Saudi Arabia is the home of Islam's most holy city, Mecca, and hosts thousands of pilgrims every year. It's also the world's largest producer and exporter of oil, with the second-largest oil reserves, making it one of the most important nations in global trade. Naturally, then, shipping to Saudi Arabia a challenge for couriers, requiring the right expertise to get the job done right.
Luckily, DPD only offer renowned courier services to ensure that parcel delivery to Saudi Arabia is stress-free. And since we always find ways to save our customers money, you'll get that premium service at the lowest possible price. Get a quote today!
Get a Quote
What else do you need to know...
What items can I send?
Saudi Arabian import restrictions are fairly strict when compared with Europe or the USA. Items that are banned from import into the country include:
Alcoholic beverages and distilling equipment

Narcotics (including poppy seeds)

Crosses, crucifixes, or stars of David

Pork and products thereof

Material advertising tobacco products
You can find more information about what you can and can't send to Saudi Arabia by getting touch with HM Revenue and Customs. You should also check out our prohibited items page for a list of goods that can't legally be carried by our couriers.
How do I get a quote?
Getting a quote is easy. Just enter the details of your parcel (its weight, height and length) into the quick-quote tool above, click Quote & Book, and choose the courier quote that's right for you. Simple.
Get a Quote
Where can I find more information?
If you need any more information, you'll find plenty of helpful stuff at our online Help Centre There you can browse our FAQ guides — covering everything from packaging tips to international shipping advice — or talk to one of our friendly advisors via the chat window.
Get a Quote