Send a parcel to the Czech Republic from only £24.10 inc VAT
Collection and drop-off service available
Get parcel cover worth up to £50 included
Protect your parcel up to £5000 with extra cover
Send up to 70kg on selected services
Get a Quote
No Services
---
There are no services that collect and deliver to your selected countries.
Czech Republic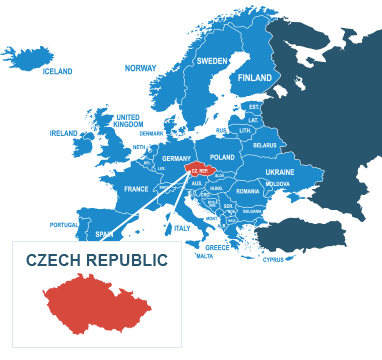 The Czech Republic
Bordered by big European countries like Germany, Austria and Poland, the Czech Republic has become a central part of the EU through both its business success and its cultural attractions. However, as a landlocked country, it can be difficult to ensure that parcels sent from the UK arrive in time and unscathed.
Luckily, DPD are at hand to ensure that parcel delivery to the Czech Republic is a hassle-free experience. We work as a top European courier services in order to get reliable service for our customers at the lowest prices possible. So, whether you need to deliver to Prague or to the South Moravian, you can't beat sending with DPD. Get a quote today.
Get a Quote
Drop Off
DPD Pickup
Drop off your parcel
anytime today
Buy This Service
Door to Door
DPD Door To Door Int
Collection tomorrow
if you book in the next
10 hours
Buy This Service
What else do you need to know...
Do I need to deal with customs when sending from the UK to the Czech Republic?
The Czech Republic joined the European Union back in 2004, which means — handily for you — that parcels sent from the UK won't have to go through customs when they arrive in the country.
How much does it cost to send a parcel from the UK to the Czech Republic?
Postage to the Czech Republic starts from as little as £24.10 when you book your delivery through DPDLocal-Online. Our great prices are a product of strong relationships with all of our couriers, with whom we negotiate cheap parcels for our customers.
How should I address my parcel for delivery to the Czech Republic?
By and large you can stick with the standard UK style when posting to the Czech Republic. However, the Czech Post Office does specify a couple of things that they ask senders to remember. To ensure that you address your parcel to the Czech Republic correctly, you can refer to this guide put together by the Universal Postal Union.
What items can I send?
The Czech Post Office follows EU regulations when it comes to what can and cannot be sent in the post. However, there are a few items specifically highlighted as banned, which include:
Drosophilidae for biomedical research;

Meat and poultry;

Oil seeds and miscellaneous grains;

Chicory seeds.
For information on what items are banned as standard for delivery with our couriers, you can refer to our prohibited items list.
How do I get a quote?
Getting a quote is easy. Just enter the details of your parcel (its weight, height and length) into the quick-quote tool above, click Quote & Book, and choose the courier quote that's right for you. Simple.
Get a Quote
Where can I find more information?
If you need any more information, you'll find plenty of helpful stuff at our online Help Centre There you can browse our FAQ guides — covering everything from packaging tips to international shipping advice — or talk to one of our friendly advisors via the chat window.
Get a Quote