Get a Quote
No Services
---
There are no services that collect and deliver to your selected countries.
Indonesia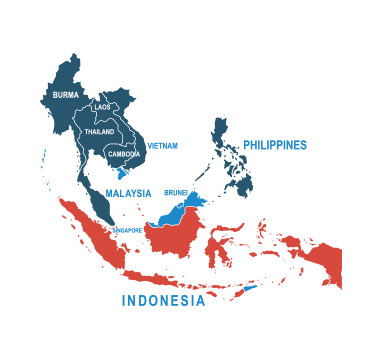 Indonesia
Indonesia has been an important trade route since as early as the 7th century. Made up of a collection of islands in South East Asia, it lends itself to international importing and exporting. Plus, its population size (the fourth-largest in the world) and buying power (eighth in the world) make it a key player in global trade. As such, the demand for sending parcels to the Republic of Indonesia is ever increasing.
Thankfully, here at DPD we work with the world's top courier services to ensure your parcel delivery to Indonesia is priced as low as possible. So, whether you need to send cheap parcels to the bustling city of Jakarta or the surrounding Indonesian islands, simply enter the details of your parcel in the quote box above to get started.
Get a Quote
What else do you need to know...
What items can I send?
The Indonesian list of prohibited items runs parallel with that of China, with both banning things like:
For informed advice on what you can send to Indonesia, we advise getting in touch with HM Revenue and Customs. It's also worth familiarising yourself with our list of prohibited items for goods banned by our couriers.
How do I get a quote?
Getting a quote is easy. Just enter the details of your parcel (its weight, height and length) into the quick-quote tool above, click Quote & Book, and choose the courier quote that's right for you. Simple.
Get a Quote
Where can I find more information?
If you need any more information, you'll find plenty of helpful stuff at our online Help Centre There you can browse our FAQ guides — covering everything from packaging tips to international shipping advice — or talk to one of our friendly advisors via the chat window.
Get a Quote