Get a Quote
No Services
---
There are no services that collect and deliver to your selected countries.
Thailand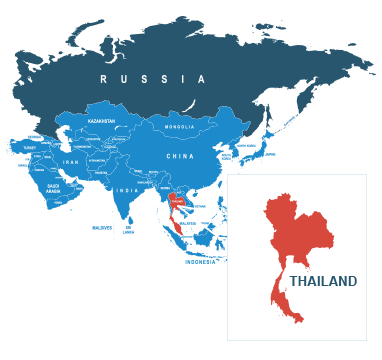 Thailand
As well as being the home of Muay Thai and one of Asia's tastiest cuisines, Thailand also enjoys a booming trade economy. In keeping, there's a great deal of supply and demand both going in and out of the Thai border, which of course means that there has to be someone reliable enough to ensure packages heading to Thailand arrived unscathed.
That's where we come in. At DPD, we do everything possible to make parcel delivery to Thailand easier for our customers. Thanks to our expansive networks of well-known international courier services, we're always able to get our customers the best deal on cheap parcels, whether they're being sent to Bangkok or Nonthaburi. Simply enter your parcel details in the box above to get started!
Get a Quote
What else do you need to know...
What items can I send?
Thailand's list of items banned from import includes things like:
Obscene and pornographic materials

Goods printed with the Thai national flag

Narcotics, including opium and morphine

Goods that infringe copyright laws

Counterfeit goods
You'll find the full list here. And for a better grasp of what kind of items you might not be permitted to send with our couriers, see our prohibited items page.
How do I get a quote?
Getting a quote is easy. Just enter the details of your parcel (its weight, height and length) into the quick-quote tool above, click Quote & Book, and choose the courier quote that's right for you. Simple.
Get a Quote
Where can I find more information?
If you need any more information, you'll find plenty of helpful stuff at our online Help Centre There you can browse our FAQ guides — covering everything from packaging tips to international shipping advice — or talk to one of our friendly advisors via the chat window.
Get a Quote