Get a Quote
No Services
---
There are no services that collect and deliver to your selected countries.
Israel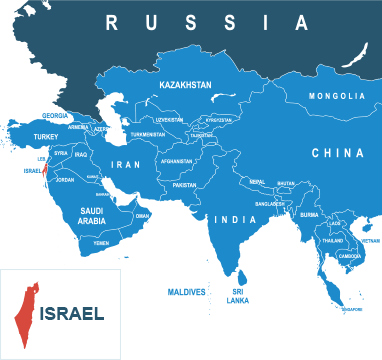 Israel
Israel holds a great deal of fame owing to its biblical history, culminating a huge amount of tourism as a result of religious pilgrimages from around the world. It also boasts one of the world's highest life expectancies, too, with the highest living standards in the Middle East. Naturally, Israel is able to trade with many different nations as a result, which means that courier deliveries are properly accommodated for.
When you book a parcel delivery to Israel through DPD, you can send with some of the world's most reliable international courier services. Our network is trusted by companies and individuals alike, ensuring that our customers are getting top-quality service at an unbeatable price. So whether you're sending to Jerusalem or Bethlehem, get cheap postage to Israel by booking with DPD.
Get a Quote
What else do you need to know...
What items can I send?
Items that are banned from shipping to Israel include:
Milk and dairy products

Fresh meat and meat products

Games of chance and gambling machines

Cordless telephones

Plants and plant products

Weapons and explosives

Illegal drugs

Pornographic material
For any further information, get in touch with HM Revenue and Customs. You should also refer to our prohibited items list for goods that can't be carried by our couriers.
How do I get a quote?
Getting a quote is easy. Just enter the details of your parcel (its weight, height and length) into the quick-quote tool above, click Quote & Book, and choose the courier quote that's right for you. Simple.
Get a Quote
Where can I find more information?
If you need any more information, you'll find plenty of helpful stuff at our online Help Centre There you can browse our FAQ guides — covering everything from packaging tips to international shipping advice — or talk to one of our friendly advisors via the chat window.
Get a Quote