Get a Quote
No Services
---
There are no services that collect and deliver to your selected countries.
Pakistan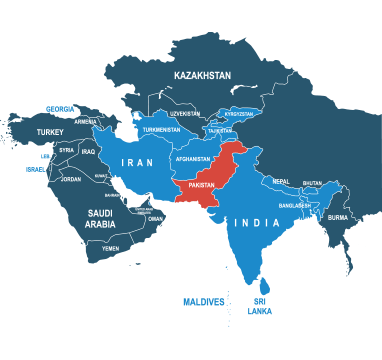 Pakistan
Pakistan is one of the central hubs of the Middle East, making for high demand in deliveries both in and out of the country. It's big, too: with nearly 200 million inhabitants, it's the sixth most populous country in the world. Plus, its history with neighbouring India and its ongoing trade relationship means that there are a whole lot of parcels going round.
With DPD, however, ensuring safe and affordable parcel delivery to Pakistan is easy. Our strong relationships as a top courier service, we can ensure that we always get cheap parcels with premium service for all of our customerrs. All you have to do is enter your details into the quote form above to get started.
Get a Quote
What else do you need to know...
What items can I send?
Pakistan follows the general rule when it comes to prohibited items, with a couple of not-so-obvious exceptions. Unusual banned items include:
Clocks, watches, and any related parts;
Optical equipment like cameras and video recorders;
Toys, games, and sports requisites.
You can find out more about items banned in Pakistan's post by consulting with HM Revenue and Customs. And for a rundown of all items that are commonly restricted in the post in the UK see our prohibited items list.
How do I get a quote?
Getting a quote is easy. Just enter the details of your parcel (its weight, height and length) into the quick-quote tool above, click Quote & Book, and choose the courier quote that's right for you. Simple.
Get a Quote
Where can I find more information?
If you need any more information, you'll find plenty of helpful stuff at our online Help Centre There you can browse our FAQ guides — covering everything from packaging tips to international shipping advice — or talk to one of our friendly advisors via the chat window.
Get a Quote