Send a parcel to Hungary from only £25.96 inc VAT
Collection and drop-off service available
Get parcel cover worth up to £50 included
Protect your parcel up to £5000 with extra cover
Send up to 70kg on selected services
Get a Quote
No Services
---
There are no services that collect and deliver to your selected countries.
Hungary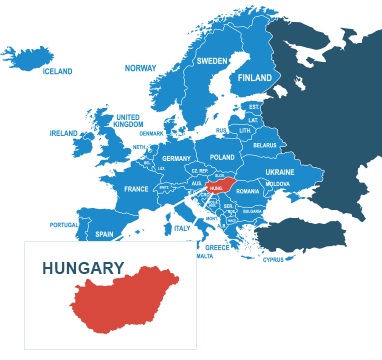 Hungary
Bordered by seven countries, Hungary has become a vital causeway for goods to transport through the heart of Europe. Added to its thriving tourism economy — estimates point towards over ten million visitors per year — thanks to attractions like Budapest and Lake Balaton, Hungary has become a central location for sending goods.
Here at DPD, we'll ensure that parcel delivery to Hungary is fast and reliable at the lowest costs. With a vast network of world-leading services, we can offer a variety of options for the best prices on the market. All you need to do is pop your parcel details into our quick-quote tool to get started.
Get a Quote
Drop Off
DPD Pickup
Drop off your parcel
anytime today
Buy This Service
Door to Door
DPD Door To Door Int
Collection tomorrow
if you book in the next
11 hours
Buy This Service
What else do you need to know...
Do I need to deal with customs when sending from the UK to Hungary?
Hungary is actually a member of the European Union, which means that there's no need to worry about customs duties when you send a package there from the UK.
How much does it cost to send a parcel from the UK to Hungary?
Postage to Hungary starts from as little as £25.96 only when you book through DPDLocal-Online. Our strong relationships with our couriers means that we're able to negotiate the lowest prices possible for our customers, so you get cheap parcels every time you shop with us.
How should I address my parcel for delivery to Hungary?
Hungary has a couple of addressing rules that marks it out as a little different from other countries in the EU. To make sure you're addressing your parcel correctly when posting to Hungary, check out this useful Hungarian addressing guide that the Universal Postal Union have put together.
What items can I send?
Although as a general rule Hungary's trade restrictions are similar to the UK and the rest of the European Union, there are a couple of notable extra banned items that you should be aware of before posting your item. These include:
National monetary instruments (stocks, bonds, treasury bills and bank drafts are examples);

Copied CDs and DVDs that infringe copyright;

Print materials that could be judged to incite hatred to a particular demographic.
If you're unsure whether your item is lawful in Hungary or not, you can contact the Hungarian Post Office for more information. Check our prohibited items list too for any items that are not permitted in UK post.
How do I get a quote?
Getting a quote is easy. Just enter the details of your parcel (its weight, height and length) into the quick-quote tool above, click Quote & Book, and choose the courier quote that's right for you. Simple.
Get a Quote
Where can I find more information?
If you need any more information, you'll find plenty of helpful stuff at our online Help Centre There you can browse our FAQ guides — covering everything from packaging tips to international shipping advice — or talk to one of our friendly advisors via the chat window.
Get a Quote