Send a parcel to Denmark from only £24.10 inc VAT
Collection and drop-off service available
Get parcel cover worth up to £50 included
Protect your parcel up to £5000 with extra cover
Send up to 70kg on selected services
Get a Quote
No Services
---
There are no services that collect and deliver to your selected countries.
Denmark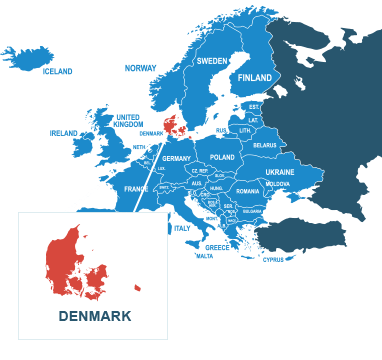 Denmark
The home of Lego and Carlsberg, Denmark has plenty of great exports to keep its economy going strong. As with any wealthy country, there is always plenty of demand for goods that can't be found in the Scandinavian land, whether that's overseas buyers or family members seeking a reminder of home.
At DPD, we work hard to make sure that parcel delivery to Denmark is both easy and affordable. With a strong network, we're able to get cheap parcels for our customers without having to compromise on quality of service. So, whether you need to deliver to Aarhus or Copenhagen, you'll always get the best price by choosing DPD!
Get a Quote
Drop Off
DPD Pickup
Drop off your parcel
anytime today
Buy This Service
Door to Door
DPD Door To Door Int
Collection tomorrow
if you book in the next
10 hours
Buy This Service
What else do you need to know...
Do I need to deal with customs when sending from the UK to Denmark?
As it's a member of the EU, there's no need to deal with international customs duties when posting to Denmark from the UK, making things even less stressful for you.
How much does it cost to send a parcel from the UK to Denmark?
You can send a parcel to Denmark for as little as £24.10 when you book through DPDLocal-Online. We're able to get the lowest prices on the postage to Denmark by negotiating with our couriers and passing on the savings to you, and on top of that we offer a range of options on all our delivery services to ensure you send the way you want to.
How should I address my parcel for delivery to Denmark?
Addressing in Denmark is fairly straightforward compared to some of the other countries in the European Union. For the full breakdown, you can consult with this useful guide created by the Universal Postal Union.
What items can I send?
Although Denmark largely operates similarly to the EU when it comes to what can and can't be put in the mail, there are a few notable items that they specifically clamp down on. The biggest ones to be aware of are:
Various species of trees and plants, including cut plants, bulbs and roots;

Certain pharmaceutical products.
The lists are fairly extensive, so it's worth referring to the Danish Health Authority for guidance. You should also see our prohibited items page for a list of goods that you can't send with our couriers.
How do I get a quote?
Getting a quote is easy. Just enter the details of your parcel (its weight, height and length) into the quick-quote tool above, click Quote & Book, and choose the courier quote that's right for you. Simple.
Get a Quote
Where can I find more information?
If you need any more information, you'll find plenty of helpful stuff at our online Help Centre There you can browse our FAQ guides — covering everything from packaging tips to international shipping advice — or talk to one of our friendly advisors via the chat window.
Get a Quote