Send a parcel to Portugal from only £33.37 inc VAT
Collection and drop-off service available
Get parcel cover worth up to £50 included
Protect your parcel up to £5000 with extra cover
Send up to 70kg on selected services
Get a Quote
No Services
---
There are no services that collect and deliver to your selected countries.
Portugal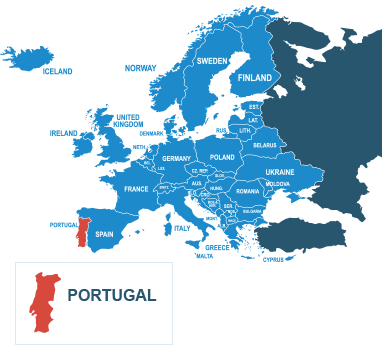 Portugal
Tucked into Spain's coastline, Portugal is a top holiday destination for Brits seeking to soak up some sun. With rich history as an central hub for international trade (hence the "Port" in its name), the Portuguese Republic has become a haven for expats; there's a large community of retired UK citizens both in Algarve and Madeira.
Parcel delivery to Portugal is easy with DPD. We'll always get you the lowest prices on a variety of delivery options. With a large network of world-leading courier services at our disposal; we can always negotiate cheap parcels to Portugal for our customers, without having to compromise on the quality of service.
So whatever you're posting to Portugal, whether to Lisbon or Porto, you're best sending it with DPD. Just enter you parcel details into the form above to get started!
Get a Quote
Drop Off
DPD Pickup
Drop off your parcel
anytime today
Buy This Service
Door to Door
DPD Door To Door Int
Collection tomorrow
if you book in the next
11 hours
Buy This Service
What else do you need to know...
Do I need to deal with customs when sending from the UK to Portugal?
As Portugal is a member of the European Union, you won't need to carry out customs duties on parcel deliveries to Portugal from the UK, making things a little less stressful for you.
How much does it cost to send a parcel from the UK to Portugal?
Postage to Portugal costs as little as £33.37 when you DPDLocal-Online. Our prices are so much better than everyone else's simply because we are able to negotiate with our couriers for the cheapest parcel delivery to Portugal, which we provide for all of our customers. We cut down prices, not quality of service.
How should I address my parcel for delivery to Portugal?
There are a couple of things about the Portuguese addressing system that sets it apart from the typical European model. For instance, Portuguese post codes have seven digits (rather than the more popular five or four digits of surrounding countries) separated by a dash, like a US ZIP code.
Luckily, the Universal Postal Union have produced this handy addressing guide to ensure that addressing a parcel for Portugal isn't confusing, so you can ensure it gets from A to B with no trouble along the way.
What items can I send?
There is a great deal of fuss made over articles specified in appendix I of what's known as "the Washington Convention (CITES)". This outlines bans on things like:
Ivory, tortoise shell, horns and claws

Animal skins, and products containing animal skins

Water hyacinths
For a full breakdown of what is or is not permitted in deliveries to Portugal, get in touch with HM Revenue and Customs before sending your parcel. You can also check out our prohibited items list for items you can't post in the UK.
How do I get a quote?
Getting a quote is easy. Just enter the details of your parcel (its weight, height and length) into the quick-quote tool above, click Quote & Book, and choose the courier quote that's right for you. Simple.
Get a Quote
Where can I find more information?
If you need any more information, you'll find plenty of helpful stuff at our online Help Centre There you can browse our FAQ guides — covering everything from packaging tips to international shipping advice — or talk to one of our friendly advisors via the chat window.
Get a Quote