Get a Quote
No Services
---
There are no services that collect and deliver to your selected countries.
Switzerland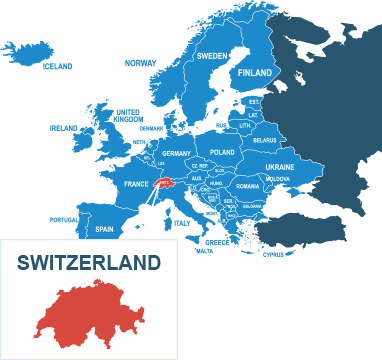 Switzerland
Switzerland is wedged right in the centre of the European mainland, bordered by Germany, Austria and France. Tourism to Switzerland is driven by its multiple languages (German, French and Italian are all widely spoken), the Swiss Alps, and sweeping Swiss vistas. Relocation to Switzerland is driven by an incredibly high quality of life and nominal wealth. With so many reasons for businesses to get involved in Swiss enterprise, shipping to Switzerland is always in high demand.
Thankfully, parcel delivery to Switzerland is made both reliable and affordable when you choose to book through DPD. We guarantee quality services, and we ensure our prices are the lowest possible. So, whether your sending to Zürich or Geneva, posting to Switzerland has never been easier, so book with DPD today!
Get a Quote
What else do you need to know...
What items can I send?
There are certain items that won't be permitted for import in Switzerland. These include:
Briefcases with built-in alarm devices

Flammable solid items including matches

Radioactive materials

Non-rechargeable lithium batteries
You can check out a more detailed list here. It's also worth referring to our prohibited items page for goods that can't be handled by our couriers.
How do I get a quote?
Getting a quote is easy. Just enter the details of your parcel (its weight, height and length) into the quick-quote tool above, click Quote & Book, and choose the courier quote that's right for you. Simple.
Get a Quote
Where can I find more information?
If you need any more information, you'll find plenty of helpful stuff at our online Help Centre There you can browse our FAQ guides — covering everything from packaging tips to international shipping advice — or talk to one of our friendly advisors via the chat window.
Get a Quote