Get a Quote
No Services
---
There are no services that collect and deliver to your selected countries.
New Zealand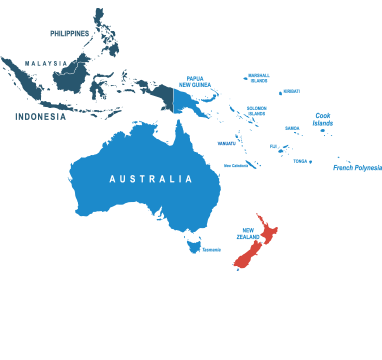 New Zealand
New Zealand is a home away from home for many Britons thanks to its English heritage, it's love of rugby, and its gift for awkward humour. Situated in the Pacific Ocean, however, often makes the prospect of sending a parcel to the Kiwi homeland a daunting one.
Thankfully, DPD work with renowned international courier services to make parcel delivery from London to Wellington as quick and easy as possible. And as always, you can rely on us to get the lowest prices for our customers. Simply enter your parcel details in the quote box above to get started.
Get a Quote
What else do you need to know...
What items can I send?
The general rule with New Zealand is that you can send anything that would be acceptable to mail here in the UK. For a general overview of those restrictions, you can visit our prohibited items list.
However, one thing that's worth noting is that the Kiwis have a couple of odd rules regarding things like:
Certain variants of these items are strictly prohibited, while others are permitted in small quantities. Check with New Zealand's customs office for a full breakdown of your options.
How do I get a quote?
Getting a quote is easy. Just enter the details of your parcel (its weight, height and length) into the quick-quote tool above, click Quote & Book, and choose the courier quote that's right for you. Simple.
Get a Quote
Where can I find more information?
If you need any more information, you'll find plenty of helpful stuff at our online Help Centre There you can browse our FAQ guides — covering everything from packaging tips to international shipping advice — or talk to one of our friendly advisors via the chat window.
Get a Quote