Get a Quote
No Services
---
There are no services that collect and deliver to your selected countries.
Taiwan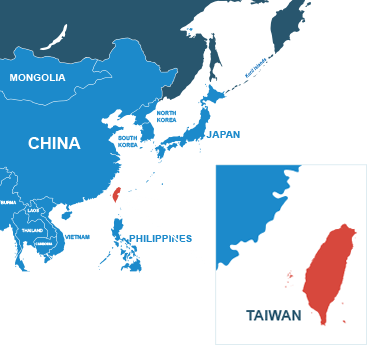 Taiwan
As one of the "Four Asian Tiger" states — those that have undergone rapid development over the last thirty years or so, alongside Singapore, Hong Kong, and South Korea —Taiwan enjoys a great trade economy and a top location for trade routes. Like Hong Kong, Taiwan is officially a part of the People's Republic of China, despite operating separately from it. Nevertheless, deliveries in and out of the East Asian paradise are a huge industry, often making it difficult for those sending a parcel to Taiwan to keep track of it.
Thankfully, here at DPD we make sure parcel delivery to Taiwan is completely stress-free. With a network of reliable services, we are able to guarantee that our customers are always getting the best deal. So, if you need to send a parcel to Taiwan — whether it's to Tapei or Kaohsiung — simply fill in the quote form above to get started.
Get a Quote
What else do you need to know...
What items can I send?
Like China, Taiwan has strict regulations on things like:
Tobacco

Alcohol

Medical devices

Pharmaceuticals
Contact HM Revenue and Customs for information on import prohibitions in Taiwan before sending. It's worth familiarising yourself with our prohibited items list for standards of handling in the UK, too.
How do I get a quote?
Getting a quote is easy. Just enter the details of your parcel (its weight, height and length) into the quick-quote tool above, click Quote & Book, and choose the courier quote that's right for you. Simple.
Get a Quote
Where can I find more information?
If you need any more information, you'll find plenty of helpful stuff at our online Help Centre There you can browse our FAQ guides — covering everything from packaging tips to international shipping advice — or talk to one of our friendly advisors via the chat window.
Get a Quote