Get a Quote
No Services
---
There are no services that collect and deliver to your selected countries.
Qatar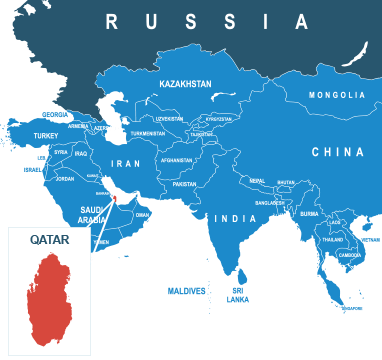 Qatar
Qatar is, considering its size, an incredibly powerful country. With a population of only 1.8 million, Qatar is a high income economy thanks to its large natural gas and oil reserves, and has the second highest standard of living in the Middle East. It's currently set to host the FIFA World Cup in 2022, a feat no other Arab country has yet accomplished. It's no wonder then why parcel delivery to Qatar is a service that's constantly in high demand.
Thankfully, DPD only offer proven courier servicesto ensure that when you're shipping to Qatar, you're sending cheap parcels securely. Plus, we'll always get the lowest possible prices for all of our customers. Whatever you're posting to Qatar, you'll get the best deal by choosing DPD.
Get a Quote
What else do you need to know...
What items can I send?
There are some fairly stern regulations in place with regard to what you can and can't send to Qatar. Banned items include:
Religious books and material

Israeli currency

Alcohol

Pornography

Narcotics

Pork and products thereof
For more information, contact HM Revenue and Customs, and check out our prohibited items page.
How do I get a quote?
Getting a quote is easy. Just enter the details of your parcel (its weight, height and length) into the quick-quote tool above, click Quote & Book, and choose the courier quote that's right for you. Simple.
Get a Quote
Where can I find more information?
If you need any more information, you'll find plenty of helpful stuff at our online Help Centre There you can browse our FAQ guides — covering everything from packaging tips to international shipping advice — or talk to one of our friendly advisors via the chat window.
Get a Quote