Get a Quote
No Services
---
There are no services that collect and deliver to your selected countries.
Brazil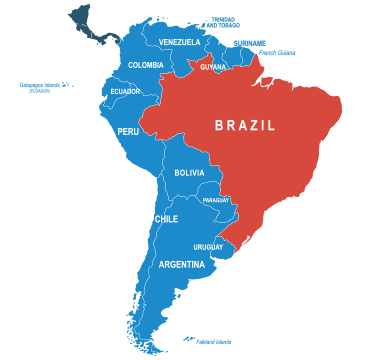 Brazil
Brazil has learned to capitalise on the amount of tourism it receives for its football, its cities, and of course the Amazon rainforest. It hosts 5 million visitors a year, rapidly boosting its economy and equipping it with the funds it needs to improve trade. There's plenty of expats living there, too, thanks to tropical weather and improvements to the safety of its residents.
For affordable parcel delivery to Brazil, look no further than DPD. We believe in making sending cheaper for our customers, which is why we'll always get the cheap parcels on our global courier service. So whether you need to send to São Paulo or Rio de Janeiro, you're best shipping to Brazil with DPD.
Get a Quote
What else do you need to know...
What items can I send?
There are a few items that are strictly not permitted for import into the country. According to The Brazil Business, these include:
Goods designed for children that replicate the shape of cigarettes or similar products

Rough diamonds for countries that aren't ethically attained

Narcotics and illegal drugs

Used goods (except donations)
For a more detailed explanation of what can and can't be sent to Brazil as well as standard import taxes, contact HM Revenue and Customs. You can also refer to our prohibited items page for goods not permitted for carriage by couriers.
How do I get a quote?
Getting a quote is easy. Just enter the details of your parcel (its weight, height and length) into the quick-quote tool above, click Quote & Book, and choose the courier quote that's right for you. Simple.
Get a Quote
Where can I find more information?
If you need any more information, you'll find plenty of helpful stuff at our online Help Centre There you can browse our FAQ guides — covering everything from packaging tips to international shipping advice — or talk to one of our friendly advisors via the chat window.
Get a Quote