Get a Quote
No Services
---
There are no services that collect and deliver to your selected countries.
South Africa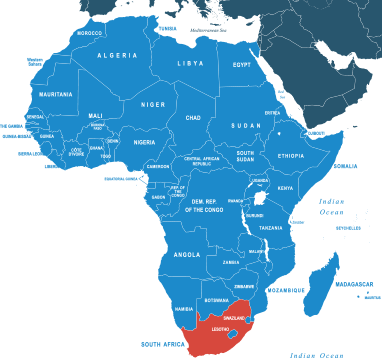 South Africa
South Africa maintains a status as a major power on the African continent. It's becoming more and more evident that South Africa will soon be a global power, having even been identified as one of the five potential superpowers known as BRICS (Brazil, Russia, India, China, and South Africa).
With growing influence, shipping to South Africa is becoming more and more important. Luckily, DPD are at hand to help. Thanks to our extensive network of a world top courier service, we're able to make parcel delivery to South Africa not only affordable, but reliable too. Only we offer the lowest prices without compromising on service, so send cheap parcels with DPD today!
Get a Quote
What else do you need to know...
What items can I send?
The import regulations of South Africa do outline some goods that aren't permitted for entry into the country, which include:
Narcotics and paraphernalia relating to their use

Poisonous or toxic substances

Cigars and cigarillos

Counterfeit goods
You can see the full list here, as well as checking out our prohibited items page for goods that aren't permitted for carriage by our couriers.
How do I get a quote?
Getting a quote is easy. Just enter the details of your parcel (its weight, height and length) into the quick-quote tool above, click Quote & Book, and choose the courier quote that's right for you. Simple.
Get a Quote
Where can I find more information?
If you need any more information, you'll find plenty of helpful stuff at our online Help Centre There you can browse our FAQ guides — covering everything from packaging tips to international shipping advice — or talk to one of our friendly advisors via the chat window.
Get a Quote