Send a parcel to Sweden from only £29.66 inc VAT
Collection and drop-off service available
Get parcel cover worth up to £50 included
Protect your parcel up to £5000 with extra cover
Send up to 70kg on selected services
Get a Quote
No Services
---
There are no services that collect and deliver to your selected countries.
Sweden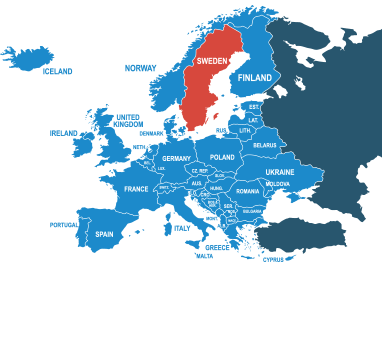 Sweden
Sweden's short working hours and efficient trade economy make it one of the best places in Europe to send a parcel. With 85% of the population living in urban areas and a lot of workers clocking off in the mid-afternoon, drop-off and pickup delivery options prove especially popular. That means that the only difficulty a sender could potentially face when delivering to Sweden is with the courier they choose.
Thankfully, here at DPD we've dedicated ourselves to making sure that getting cheap parcels with reliable service is easy. With our broad range of reputable services at hand we're able to fetch our customers industry-leading service without the hefty price-tag. So for cheap, reliable parcel delivery to Sweden, from Stockholm to Gothenburg, look no further than DPD.
Get a Quote
Drop Off
DPD Pickup
Drop off your parcel
anytime today
Buy This Service
Door to Door
DPD Door To Door Int
Collection tomorrow
if you book in the next
11 hours
Buy This Service
What else do you need to know...
Do I need to deal with customs when sending from the UK to Sweden?
Luckily, Sweden has been a member of the European Union for the last twenty years, meaning that when you're posting to Sweden from the UK don't have to worry about having to deal with customs duties when posting a parcel there.
How much does it cost to send a parcel from the UK to Sweden?
When you book through DPDLocal-Online, postage to Sweden can cost as little as £29.66. You'll find that we'll always give you the best options at prices that you'll struggle to beat. That's because we strive to ensure you save as much as possible. Plus, you'll get even better discounts when you take advantage of our bulk shipping options.
How should I address my parcel for delivery to Sweden?
The main feature you'll need to be aware of when addressing a parcel to Sweden is that the postal service require what's called an ISO-2 country code for international deliveries. If that sounds confusing, don't worry: it's all explained in this useful addressing guide put together by the Universal Postal Union.
What items can I send?
The rules around importing goods to Sweden are fairly typical of EU trade, the exception being specific prohibitions on certain plant types outlined by the Swedish customs office. These include:
Meat, milk and any items thereof from non-EU countries
Products of species protected under the Washington Convention (CITES), including tortoise shell, reptile skin and coral
We recommend contacting the Swedish Post Office if you're sending any items you're unsure about, as well as checking out our prohibited items page.
How do I get a quote?
Getting a quote is easy. Just enter the details of your parcel (its weight, height and length) into the quick-quote tool above, click Quote & Book, and choose the courier quote that's right for you. Simple.
Get a Quote
Where can I find more information?
If you need any more information, you'll find plenty of helpful stuff at our online Help Centre There you can browse our FAQ guides — covering everything from packaging tips to international shipping advice — or talk to one of our friendly advisors via the chat window.
Get a Quote