Get a Quote
No Services
---
There are no services that collect and deliver to your selected countries.
United Arab Emirates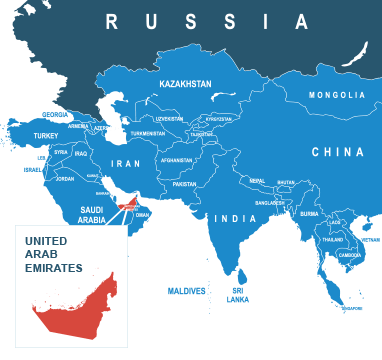 The United Arab Emirates
With some of the world's largest oil reserves, the United Arab Emirates is one of the most prominent tourist destinations in the Middle East. Having only been established in 1971, the UAE already boasts the world's tallest man-made structure, the Burj Khalifa, as well as the artificial island Palm Jumeriah. On top of that, Dubai and Abu Dhabi are two of the world's wealthiest cities.
Parcel delivery to the United Arab Emirates is far easier than you might think when you choose to send with DPD. That's because we only offer a courier service that you can rely on, minimising hassle while also offering the lowest prices on your behalf. For cheap parcels to the United Arab Emirates, look no further than DPD.
Get a Quote
What else do you need to know...
How do I get a quote?
Getting a quote is easy. Just enter the details of your parcel (its weight, height and length) into the quick-quote tool above, click Quote & Book, and choose the courier quote that's right for you. Simple.
Get a Quote
Where can I find more information?
If you need any more information, you'll find plenty of helpful stuff at our online Help Centre There you can browse our FAQ guides — covering everything from packaging tips to international shipping advice — or talk to one of our friendly advisors via the chat window.
Get a Quote