Send a parcel to Latvia from only £29.66
Collection and drop-off service available
Get parcel cover worth up to £50 included
Protect your parcel up to £5000 with extra cover
Send up to 70kg on selected services
Get a Quote
No Services
---
There are no services that collect and deliver to your selected countries.
Latvia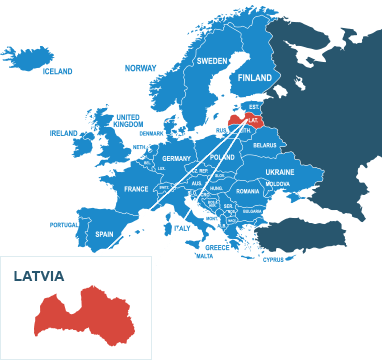 Latvia
Latvia is one of the smaller European countries, but its rapid growth is something that British investors have taken notice of. The private sector in Latvia is booming, and thrives on relationship with other EU countries, including the UK. That means that shipping to Latvia is becoming increasingly important, with senders requiring more efficient deliveries than ever before.
You'll be glad to know that DPD work with the world's leading international courier services, to get top-quality parcel delivery to Latvia and beyond for all our customers. Plus, we negotiate on your behalf to get you the lowest prices on postage to Latvia, ensuring you're always able to send cheap parcels with us. Get your quote today!
Get a Quote
Drop Off
DPD Pickup
Drop off your parcel
anytime today
Buy This Service
Door to Door
DPD Door To Door Int
Collection tomorrow
if you book in the next
12 hours
Buy This Service
What else do you need to know...
Do I need to deal with customs when sending from the UK to Latvia?
Luckily for you, Latvia became part of the European Union in 2004, which means you won't need to worry about international customs when you send a parcel there.
How much does it cost to send a parcel from the UK to Latvia?
You can start posting to Latvia for as little as £29.66 when you book through DPDLocal-Online. And since we offer a variety of options on all orders, you can ensure that you book a service that meets your needs in every way.
How should I address my parcel for delivery to Latvia?
Latvia uses a four-digit postcode that's prefixed with the abbreviation "LV" and a dash. Not sure what that looks like? Don't worry — just check out this handy addressing guide issued by the Universal Postal Union.
What items can I send?
There are a few things that you can't send to Latvia due to certain restrictions that are in place. Items banned from import include:
Pulp of wood or of other fibrous cellulose material

Explosives, includes pyrotechnics and matches

Printed books, newspapers, and pictures

Vegetable products

Pharmaceutical products
For more information on what you can and can't send to Latvia, get in touch with the Latvian customs authority. You should also refer to our prohibited items page for a list of goods that can't be carried by our couriers.
How do I get a quote?
Getting a quote is easy. Just enter the details of your parcel (its weight, height and length) into the quick-quote tool above, click Quote & Book, and choose the courier quote that's right for you. Simple.
Get a Quote
Where can I find more information?
If you need any more information, you'll find plenty of helpful stuff at our online Help Centre There you can browse our FAQ guides — covering everything from packaging tips to international shipping advice — or talk to one of our friendly advisors via the chat window.
Get a Quote