Get a Quote
No Services
---
There are no services that collect and deliver to your selected countries.
Ukraine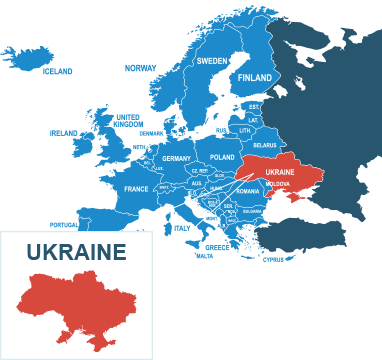 Ukraine
Ukraine is an Eastern European country bordered by the likes of Russia, Belarus, and Poland. It's known as a global "breadbasket", thanks to the extensive farmlands that afford it a reputation for being one of the world's largest grain exporters. It's the reason why so many countries see Ukraine as an extremely valuable trade partner, so international lanes for the exchange of foreign goods are constantly busy, with Kiev serving as a great business hub.
Luckily, DPD work exclusively to offer courier services you can trust. That way, we're able to ensure any parcel delivery to Ukraine is reliable when booked through us, and better still, we'll negotiate on your behalf to get you the lowest possible prices. So for cheap parcels without compromising on quality of service, you can count on DPD.
Get a Quote
What else do you need to know...
What items can I send?
Items that won't be permitted to enter Ukraine include:
Agricultural produce
Currency
Precious metals
Tobacco products and tobacco substitutes
To find out more, get in touch with HM Revenue and Customs. You should also refer to our prohibited items page for goods that you won't be able to send with our couriers.
How do I get a quote?
Getting a quote is easy. Just enter the details of your parcel (its weight, height and length) into the quick-quote tool above, click Quote & Book, and choose the courier quote that's right for you. Simple.
Get a Quote
Where can I find more information?
If you need any more information, you'll find plenty of helpful stuff at our online Help Centre There you can browse our FAQ guides — covering everything from packaging tips to international shipping advice — or talk to one of our friendly advisors via the chat window.
Get a Quote