Get a Quote
No Services
---
There are no services that collect and deliver to your selected countries.
Uganda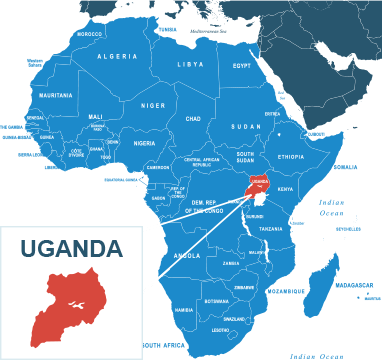 Uganda
After Ethiopia, Uganda is the world's most populous landlocked country. It's territory encompasses a significant portion of Lake Victoria, located in the African Great Lakes region of East Africa. As an ex-British colony, many Ugandans still speak English as a first language, easing trade with countries like the USA and the UK.
Here at DPD, we work hard to ensure that parcel delivery to Uganda is are cheap as it can be. We are a world-leading courier service and always ensure that our customers are getting fantastically cheap parcels wherever they're sending. So whatever you're shipping to Uganda, you can count on DPD to get you the best deal.
Get a Quote
What else do you need to know...
What items can I send?
The following items are banned from entry into Uganda for various legal reasons:
Henna
Palm tree and products thereof
Explosive materials, include matches containing white phosphorus
Cultural artefacts
For more information, contact the Ugandan customs authority. You should also see our prohibited items page for a list of goods not permitted for carriage by our couriers.
How do I get a quote?
Getting a quote is easy. Just enter the details of your parcel (its weight, height and length) into the quick-quote tool above, click Quote & Book, and choose the courier quote that's right for you. Simple.
Get a Quote
Where can I find more information?
If you need any more information, you'll find plenty of helpful stuff at our online Help Centre There you can browse our FAQ guides — covering everything from packaging tips to international shipping advice — or talk to one of our friendly advisors via the chat window.
Get a Quote