Get a Quote
No Services
---
There are no services that collect and deliver to your selected countries.
Senegal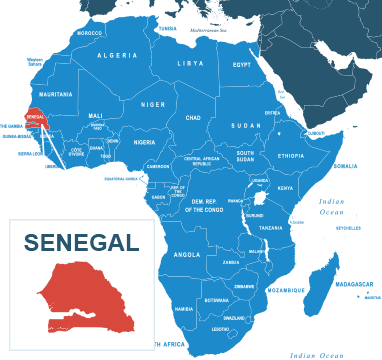 Senegal
Senegal is situated in West Africa, enveloping the smaller country of Gambia within it. Its capital, Dakar, is the westernmost city of the "Old World", which is comprised of Africa, Europe, and Asia. Dakar sits on the Atlantic coast, and is historically an incredibly value port for goods in and out of the African continent, a reputation it lives up to to this day.
It might be thousands of miles away, but parcel delivery to Senegal is easy when you choose DPD. Our network of trusted courier services means that we can secure top-quality service at a rock bottom rates, so you can send cheap parcels knowing they're in safe hands. Get a quote today!
Get a Quote
What else do you need to know...
What items can I send?
There are some items that aren't permitted for shipping to Senegal for various legal reasons. Such items include:
Narcotics and hallucinogenics

Pornographic materials

Weapons and ammunitions (excluding collector's items)

Filament lamps

Used vehicles and parts thereof
Contact HM Revenue and Customs for more information, as well as referring to our prohibited items page for goods that can't be carried by our couriers.
How do I get a quote?
Getting a quote is easy. Just enter the details of your parcel (its weight, height and length) into the quick-quote tool above, click Quote & Book, and choose the courier quote that's right for you. Simple.
Get a Quote
Where can I find more information?
If you need any more information, you'll find plenty of helpful stuff at our online Help Centre There you can browse our FAQ guides — covering everything from packaging tips to international shipping advice — or talk to one of our friendly advisors via the chat window.
Get a Quote