Get a Quote
No Services
---
There are no services that collect and deliver to your selected countries.
Romania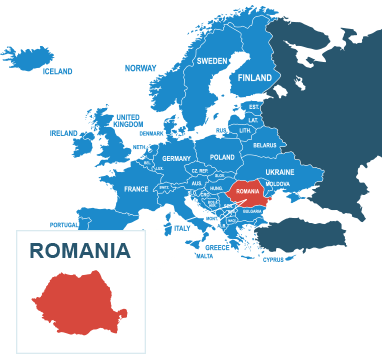 Romania
Bordering Hungary, Serbia and Moldova, Romania is a European nation with a coastline along the Black Sea. Tourism in Romania has recently spiked, and now it's one of the most rapidly growing tourist economies in the world thanks to cultural attractions that include Dracula's Castle and the painted churches of Northern Moldavia. More tourism means more trade, so shipping to Romania continues to increase in demand, too.
Luckily, DPD make parcel delivery to Romania secure and affordable. We have an extensive network of renowned services at our disposal, meaning that letting you choose cheap parcels with the courier that best suits your needs when you shop with us. Don't delay — get a quote now!
Get a Quote
What else do you need to know...
What items can I send?
There are certain restrictions on what can be sent to Romania, as with any other European country. Prohibited items include:
Tobacco and manufactured tobacco substitutes

Fertilisers

Pulp of wood and scrap paper

Copper and nickel

Arms and ammunition
You can contact the Romanian customs office for more information, as well as referring to our own prohibited items page for a list of goods banned by our couriers.
How do I get a quote?
Getting a quote is easy. Just enter the details of your parcel (its weight, height and length) into the quick-quote tool above, click Quote & Book, and choose the courier quote that's right for you. Simple.
Get a Quote
Where can I find more information?
If you need any more information, you'll find plenty of helpful stuff at our online Help Centre There you can browse our FAQ guides — covering everything from packaging tips to international shipping advice — or talk to one of our friendly advisors via the chat window.
Get a Quote