Get a Quote
No Services
---
There are no services that collect and deliver to your selected countries.
Philippines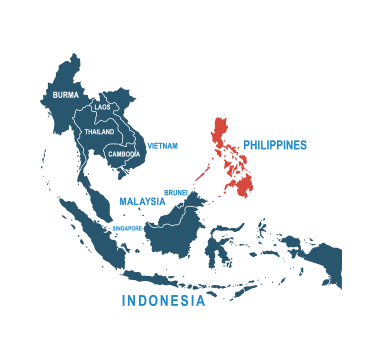 The Philippines
Having gained its independence from the United States of America following the Second World War, the Philippines has become a hugely diverse nation in Southeast Asia whose manufacturing industry goes from strength to strength. Large industries like electronic component assembly, clothing and pharmaceuticals owe a lot to the Filipino market, meaning that the demand for imports to the islands is ever increasing. Not to worry: DPD have it covered.
DPD strive to provide reputed courier services to ensure that we can get the best international courier services for our customers at the lowest possible prices. That means parcel delivery to the Philippines, whether to the centre of Manila or even to the southern region of Mindanao, is made both easy and affordable. So what are you waiting for? Enter you parcel details in the quote box above to get started.
Get a Quote
What else do you need to know...
What items can I send?
Primarily, there are three items that are strictly prohibited in Filipino mail. These banned items are:
Lithium batteries, and anything containing lithium batteries;
Lottery materials (such as tickets, cheques, and large amounts of cash);
Replicas of weapons like hand grenades and rifles.
Check with the Philippines' Bureau of Customs for more information. You can check out our prohibited items list online for items that won't be carried by our couriers.
How do I get a quote?
Getting a quote is easy. Just enter the details of your parcel (its weight, height and length) into the quick-quote tool above, click Quote & Book, and choose the courier quote that's right for you. Simple.
Get a Quote
Where can I find more information?
If you need any more information, you'll find plenty of helpful stuff at our online Help Centre There you can browse our FAQ guides — covering everything from packaging tips to international shipping advice — or talk to one of our friendly advisors via the chat window.
Get a Quote