Get a Quote
No Services
---
There are no services that collect and deliver to your selected countries.
Jamaica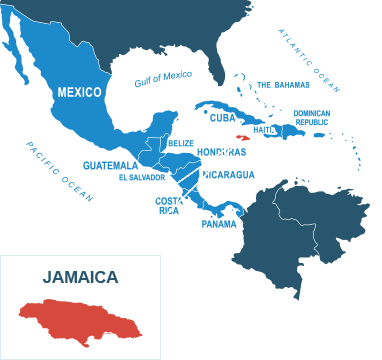 Jamaica
The Jamaican people are renowned for their laid-back, sunny outlook on life — and who can blame them? Known affectionately as "the Rock" colloquially, the island of Jamaica is a sub-tropical paradise in the Caribbean. Despite its small size, it has a huge cultural influence around the world, being responsible for the reggae and ska genres. Plus, it remains one of the top tourist destinations in the region, with an estimated 1.3 million tourists visiting every year.
Parcel delivery to Jamaica with DPD. We provide industry-leading courier services and ensure that our customers get the best service they can, and — by negotiating the most efficient ways of sending with our couriers — you'll send at the lowest possible price, too. So whether you're sending cheap parcels to Kingston or Montego Bay, send with DPD today.
Get a Quote
What else do you need to know...
What items can I send?
There are a few things that you won't be allowed to send to Jamaica, including:
Indecent and obscene prints (pornographic or offensive)

Counterfeit coin of any country

All publications of de Laurence Scott & Co. and Red Star Publishing (Chicago, USA) relating to divination, magic, cultism or the supernatural
For more information on what you can send, you can contact the Jamaican Customs Authority or get in touch with HM Revenue and Customs. It's also worth referring to our prohibited items page for goods that can't be carried by our couriers.
How do I get a quote?
Getting a quote is easy. Just enter the details of your parcel (its weight, height and length) into the quick-quote tool above, click Quote & Book, and choose the courier quote that's right for you. Simple.
Get a Quote
Where can I find more information?
If you need any more information, you'll find plenty of helpful stuff at our online Help Centre There you can browse our FAQ guides — covering everything from packaging tips to international shipping advice — or talk to one of our friendly advisors via the chat window.
Get a Quote