Get a Quote
No Services
---
There are no services that collect and deliver to your selected countries.
Greece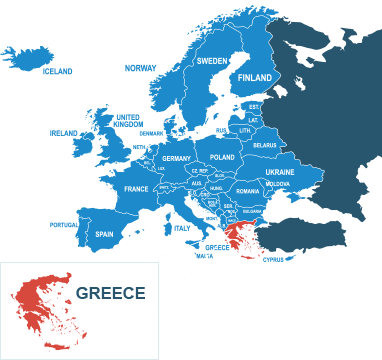 Greece
Greece's best commodity is its location. It is strategically situated at the crossroads between three major continents: Europe, Asia and Africa. It's cultural heritage as the cradle of Western civilisation combined with its gorgeous weather makes it a hugely popular tourist destination, with almost 20 million visitors every year. Plus, a growing expat population means that shipping to Greece is becoming increasingly important. That requires good couriers at an affordable price.
That's where we come in. We offer a range of trusted international courier services at our disposal, and we'll always negotiate the best price for our customers. So whether you're sending to Athens or Rhodes, you'll always get cheap parcel delivery to Greece with DPD.
Get a Quote
What else do you need to know...
What items can I send?
Greek's customs authority has specified that sending the following items is strictly prohibited:
Meat and milk from non-EU countries

Protected species and products thereof (e.g. ivory, tortoise shell, reptile skin)

Medication not intended for personal use
For more information on what can and can't be imported into Greece, get in touch with HM Revenue and Customs. You can also refer to our prohibited items page for information on goods not permitted for handling by couriers.
How do I get a quote?
Getting a quote is easy. Just enter the details of your parcel (its weight, height and length) into the quick-quote tool above, click Quote & Book, and choose the courier quote that's right for you. Simple.
Get a Quote
Where can I find more information?
If you need any more information, you'll find plenty of helpful stuff at our online Help Centre There you can browse our FAQ guides — covering everything from packaging tips to international shipping advice — or talk to one of our friendly advisors via the chat window.
Get a Quote