Get a Quote
No Services
---
There are no services that collect and deliver to your selected countries.
Chile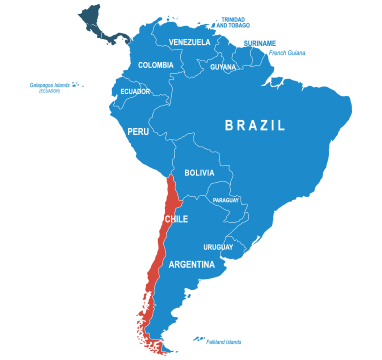 Chile
Chile is a vibrant and prosperous South American nation that currently enjoys a wealth of trade both domestically and internationally. It borders Argentina from the west for over 3,300 miles — that's the third-longest international border in the world. Plus, attractions like the Easter Island heads and gorgeous pacific coastlines make it a hub for European and American visitors alike.
Parcel delivery to Chile is easy with DPD. Thanks to a broad network of trusted services at our disposal t, we're able to secure world-leading courier services for our customers at the lowest available prices. From Arica to Santiago, you'll always get the best deal when you send with DPD. Get your quote today!
Get a Quote
What else do you need to know...
What items can I send?
The Chilean Customs Office hasn't outlined many items that are completely banned for import into the UK.
For more information, see our own prohibited items page for a list of goods not permitted for carriage by couriers.
How do I get a quote?
Getting a quote is easy. Just enter the details of your parcel (its weight, height and length) into the quick-quote tool above, click Quote & Book, and choose the courier quote that's right for you. Simple.
Get a Quote
Where can I find more information?
If you need any more information, you'll find plenty of helpful stuff at our online Help Centre There you can browse our FAQ guides — covering everything from packaging tips to international shipping advice — or talk to one of our friendly advisors via the chat window.
Get a Quote