Get a Quote
No Services
---
There are no services that collect and deliver to your selected countries.
Algeria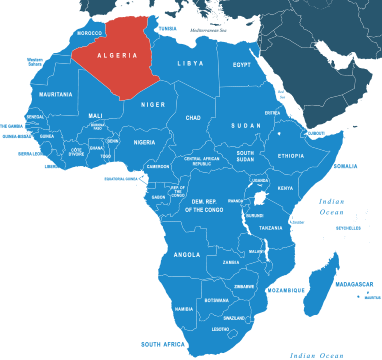 Algeria
Algeria has a strong history of trade with Europe thanks to its handy location on the Mediterranean coast of North Africa. It's currently a large supplier of natural gas to the European continent, making it a prime destination for a lot of international commerce. Such high demand on shipments between Europe and Algeria mean that many lesser couriers have jumped at the chance to profit, with many failing to deliver on their promises.
Thankfully, that's not a problem you'll encounter with DPD. We offer world's top courier services to ensure that parcel delivery to Algeria is as reliable and affordable as possible. So, whether you need to send a parcel to Algiers or Oran, you can rest assured you're best booking with us.
Get a Quote
What else do you need to know...
What items can I send?
If you're sending any items that you're unsure about, it's worth consulting with HM Revenue and Customs before you dispatch it for Algeria. For a detailed breakdown of all the items not permitted for sending in UK post, you can check our prohibited items list.
How do I get a quote?
Getting a quote is easy. Just enter the details of your parcel (its weight, height and length) into the quick-quote tool above, click Quote & Book, and choose the courier quote that's right for you. Simple.
Get a Quote
Where can I find more information?
If you need any more information, you'll find plenty of helpful stuff at our online Help Centre There you can browse our FAQ guides — covering everything from packaging tips to international shipping advice — or talk to one of our friendly advisors via the chat window.
Get a Quote