Get a Quote
No Services
---
There are no services that collect and deliver to your selected countries.
Albania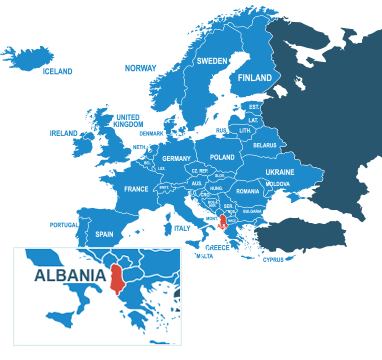 Albania
Officially becoming the Republic of Albania in 1991, Albania is technically a very young country. That being said, its economy continues to grow, particularly when it comes to international trade, and it has been steadily developing a strong relationship with the European Union for years. Many businesses are getting involved with Albania, and the high standard of living makes it a key destination for potential expats. Together, that makes for a quite a demand on international courier services.
Luckily, DPD are at hand to make sure that for our customers, parcel delivery to Albania is both affordable and reliable by working with our reputed courier services. Whether you need to send a parcel to Tirana or further afield in Albania, you can rely on us to get it done right. Get a quote today.
Get a Quote
What else do you need to know...
What items can I send?
Albanian customs lists the following goods as prohibited from being sent to the country. Ensure you don't send any of the following:
Plants and plant materials
Meat products
Knives, guns, or any other weapons
Illegal drugs
Pets and animals (except with explicit permission)
Counterfeit money and goods
If you have any questions about items not permitted into Albania, contact HM Revenue and Customs. Otherwise, you can refer to our prohibited items list online.
.
How do I get a quote?
Getting a quote is easy. Just enter the details of your parcel (its weight, height and length) into the quick-quote tool above, click Quote & Book, and choose the courier quote that's right for you. Simple.
Get a Quote
Where can I find more information?
If you need any more information, you'll find plenty of helpful stuff at our online Help Centre There you can browse our FAQ guides — covering everything from packaging tips to international shipping advice — or talk to one of our friendly advisors via the chat window.
Get a Quote